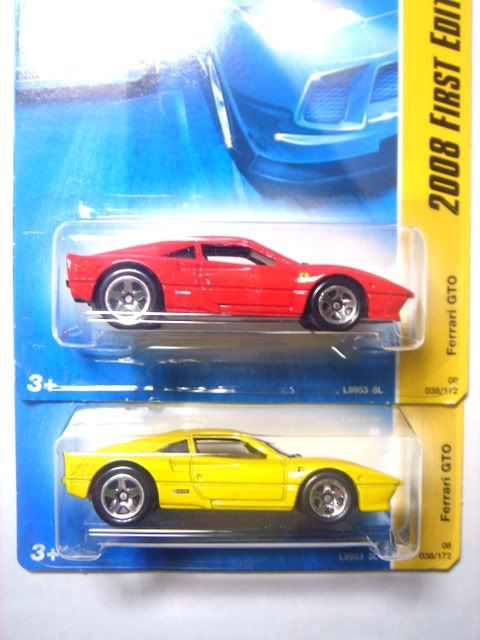 The Ferrari 288 GTO (or simply known as Ferrari GTO), was built to compete in a Group B race series against the Porsche 959 (or known as the Porsche 961). However, the lack of other competitors means that the Group B race series was scrapped, and the Ferrari GTO never raced.
Still, this car was designed to race. It has racing DNA all over it, having a mid-engined 2.8 litre V8, twin turbocharger, intercoolers, and all the racing bits. It does 0-60mph in under 5 seconds. Pretty quick, considering the fact that since this car was produced in 1984.
Hot Wheels were a bit slower than Ferrari thought, with their version of the Ferrari GTO making it into their 1:64 line-up this year (24 years later, if you're interested in the math). Produced in only two variants, it sports a 40th anniversary logo on the card, which supposedly means the cars have a slightly better paint job than the average cars. I would agree to this, as there are a bit more detailing on the car, also Ferrari logos and embelms littered across the car; on the engine cover, sides and hood, just like the real thing.
The red variant just arrived in Malaysia not so long ago (as I posted in the "Spotted" column), and if you're lucky enough you can see them on the racks. As for the yellow, I owe it much to Mr. Jonathan again. Two more pics below!