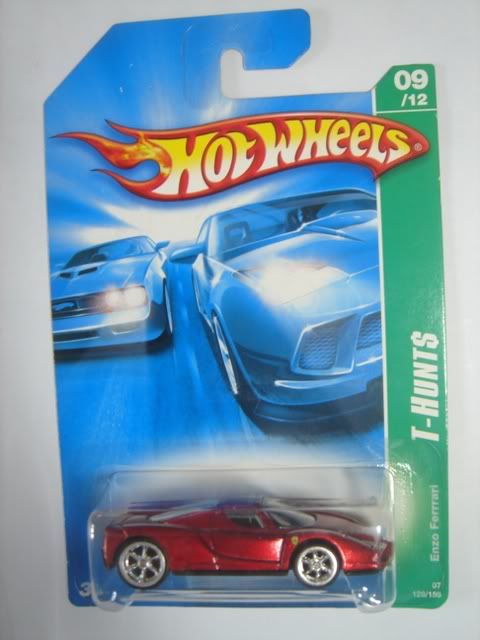 Whenever you walk into a toy store or toy section in a departmental store to buy Hot Wheels, there would be one colour that would make your heart beat faster, your steps quicker, your muscles tighten and maybe even sweat on your palms.
Green.
Yup, an educated Hot Wheels collector will always jump whenever spotting a card with a green strip on the side, representing the Treasure Hunt series. Sometimes, on an even rarer occasion, the green card has a '$' symbol on it, making the person jump even higher.
Here comes the bit of history. The Treasure Hunt series was first produced in 1995 with 12 cars that are produced with specially detailed paint job and rubber wheels on a limited run. These cars were sold at retail on stores, but generally have a high resale value due to the limited numbers it was produced. In 2007, this series was split into two, the "Regular" and the "Super" Treasure Hunt series, the latter being identified with an extra '$' symbol printed on the card.
The "Super" Treasure Hunt series, was in some ways similar to the initial Treasure Hunt series. It sports rubber wheels, special rims, and a spectraflame paint job. The pictures in this post below are to depict the quality of the "Super" Treasure Hunt series cars. Look at these pictures, then take out a regular Hot Wheels car you own and compare the two. See the differences? The Treasure Hunt$ in this post are the Enzo and C6R of 2007, both of which I have recently acquired (and subsequently sold).
This series is rumoured to be produced in a more limited number than the initial Treasure Hunt Series. Thus, the resale value for this is much higher than the initial Treasure Hunt series. On eBay, a Super will typically cost you anywhere from US$15 up to US$55 for some rare models.
The resale value varies between countries. For example, here in Malaysia a Drag Bus is generally valued higher than a "Super" Treasure Hunt. In the US, the two are considered to be of similiar value.
The next post will cover the differences of the "Super" and the "Regular" Treasure Hunt. Until then, enjoy these photos. :-)
So, the next time you see a green card with a '$' logo, you know what to do. Take it off the rack/shelf, walk casually to the counter, pay the retail price and smile, because you have just bought yourself a car that is rare and may fetch 10 to 20 times the price you just paid for.