Vital Statistics:
Model:
Mitsubishi Lancer Evolution X FQ-360 GSR
Engine:
998cc turbo, four cylinders
Power:
1 354bhp @ 6500rpm
Torque:
363 lb ft @ 3200rpm
Transmission:
Five-speed manual
Fuel
: 19.9mpg (combined)
CO2
: 328g/km
Performance:
0-62mph: 4.1sec
Top speed
:155mph
Excerpts from Jeremy Clarkson's review:
"...you couldn't get more attention even if you were Jade Goody and you stood on a bridge over the M1 motorway and had full sex with a cow."
"The previous nine Evos were always exquisite to drive, nicer even than their great rivals from Subaru. But they were also woefully flimsy, stylistically challenged and hard to the point of hopelessness. For one lap of the Nürburgring, you'd use an Evo every time."
"The Evo X, on the other hand, looks fab. Peel away the bulges and all that carbon fibre flotsam and jetsam – all of which gives other road users an impression that for you driving may be a hobby, like trainspotting – and the basic shape is very good. And then . . . Oh. My. God. There's the way it drives."
"The heart and soul in question was its ability to remain composed and absolutely controllable in a lairy, tyre-smoking four-wheel drift. No other car I'd driven was able to do this, even slightly. It was exquisite."
"The new car is even better because when you turn into a corner it's the back that steps out of line. This means that even the portal through which you must pass to get at the meat and veg is full of hair-tingling joy."
"Then there's the speed. Yes, a Ferrari 430 is full of brio and passion but get an Evo X on your tail and I guarantee that, unless it's being driven by a complete spanner, you will not be able to shake it off."
- Vital statistics and excerpts of Jeremy Clarkson's review from timesonline.co.uk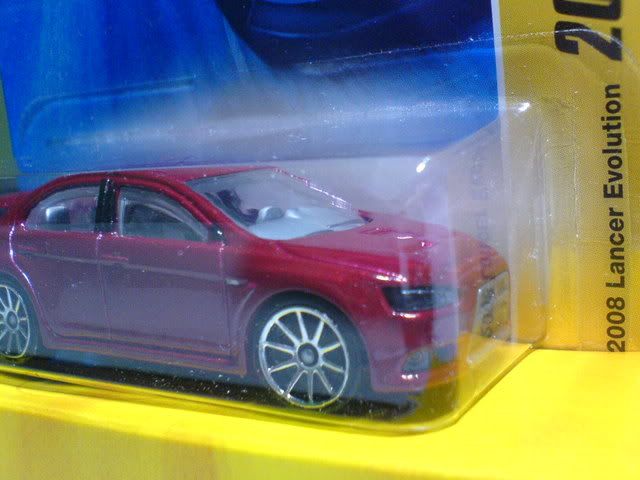 This is the Evolution X. Arguably one of the best incarnations of the Evolution ever. However, does HotWheels do the Evo X's real life counterpart any justice with this casting? If you want this exquisite Japanese tuner machine to be the next up to be customized, vote for it! How to vote? A poll will be posted up after all three candidates are revealed, look out for it! :-)