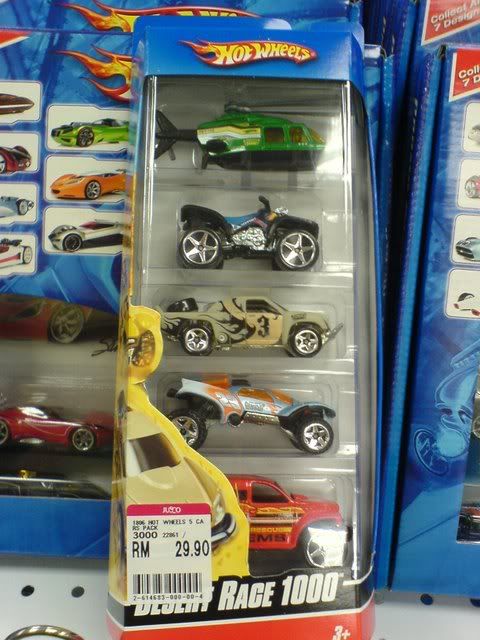 Looks like our local Jaya Jusco have started bringing in more 2008 5-packs. Previously, we were still lacking three 5-packs from the 2008 line-up: Desert Race 1000, Top Speed GT and Ferrari GT.
This Desert Race 1000 pack was spotted in the Sunway Pyramid Jaya Jusco, there was only one on the racks. I didn't see any of the other 2 mentioned above. The cars in this pack are: Propper Chopper, ATV, Off Track, Da' Kar, and Power Panel.
Hopefully this will mean that we will be seeing more 5-packs in the near future, especially the highly anticipated Ferrari GT 5-pack. Although having said that, this was the scene for 5-packs at another local Jusco.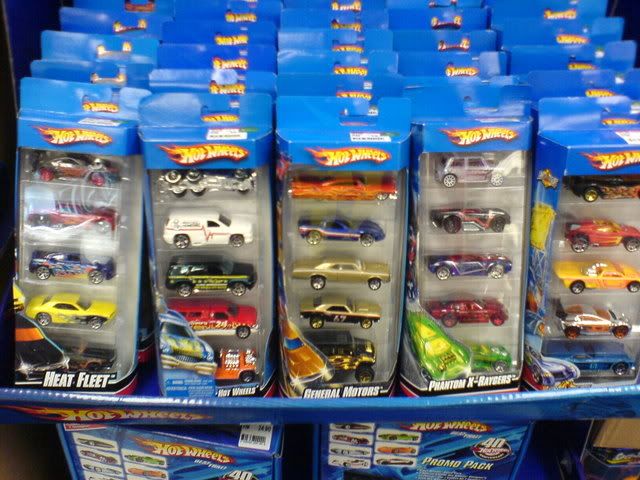 Yeap, this outlet is still flooded with the current range of 5-packs. If they are not moving, then I don't think we will see new ones. :-|
On another note, it seems that Jusco and Parkson are also restocking their MatchBox on the shelves...with the same batch of stocks. I found two VW Bus T2 on the racks, and some other nice stuff from that wave: Audi R8, Porsche 911 GT3, Baja Bandit, Bentley Continental GT, etc. Of course, the models that are harder to find like Volkswagen 4x4 and the London Routemaster Bus were nowhere to be seen when I was there.
Still, don't give up just yet. Go visit your nearest Jusco or Parkson and see what they have to offer on the racks! :-)