Porsche Carrera GT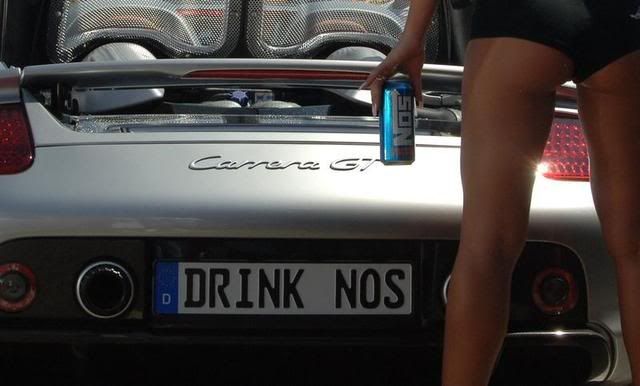 Vital Statistics:Model:
Porsche Carrera GT
Engine type:
V10, 5733cc
Power:
612bhp @ 8000rpm
Torque:
435 lb ft @ 5750rpm
Transmission:
Six-speed manual, rear-wheel drive
Acceleration:
0 to 62mph: 3.9sec
Top speed:
205mph
Excerpts from Jeremy Clarkson's review:
"...the most refined, most planed away, most astonishing engine I have ever encountered is currently to be found sitting in the middle of Porsche's new Carrera GT. This is 100 years of human achievement crammed into three cubic feet of titanium, magnesium, aluminium and raw, unadulterated, visceral, screaming power."
"The Porsche engineers talk about the clutch pedal as though it's the trigger for a nuclear bomb. It may as well be."
"The result is an extraordinary lightness. The targa-style roof, for instance, lifts out in two panels, each of which is light enough to be carried away by a strong ant. The seats weigh less than a bag of sugar. This car is so light I would be loath to leave it parked in a high wind. Certainly, you'd feel guilty driving it after a big lunch."
"Now we have seen this kind of blood and guts stuff before, from Ferrari and McLaren and even some of the new boys like Pagani and Koenigsegg. But the Porsche feels different than any of them.
It feels finished. The quality of the body is as good as you'd expect from a Toyota Corolla and inside there's exactly the right blend of luxury, style and weight saving. Ferrari just tends to nail a speedo to the dash and leave it at that. Pagani uses too much chintz. The Carrera is perfect."
"It looks like the result of a liaison between Henry Moore and Isambard Brunel. It is engineering at its artsy-fartsy best."
"And there is no doubt that from any angle it is utterly beautiful. I had a long discussion recently with a friend about the difference between art and design. And without wishing to sound like Alan Yentob, the Carrera seems to sit at a point where the two disciplines meet. "
- Vital statistics and excerpts of Jeremy Clarkson's review from timesonline.co.uk


Engineering and artistic perfection, all blended into this masterpiece called Porsche Carrera GT. HotWheels decided to cast this masterpiece in a black exterior, all-red interior and 5-spoke rims. Does it look like an engineering or artistic perfection to you? If you want to make this European supercar the next choice candidate to be customized next, cast your vote for it! Now that you know all three choices, you have time to decide before a poll is posted up tomorrow. A poll will be posted up and the car with the most votes after a week will be customized! :-)